First time in Thailand, "Beloved" a gay stage play from Cambodia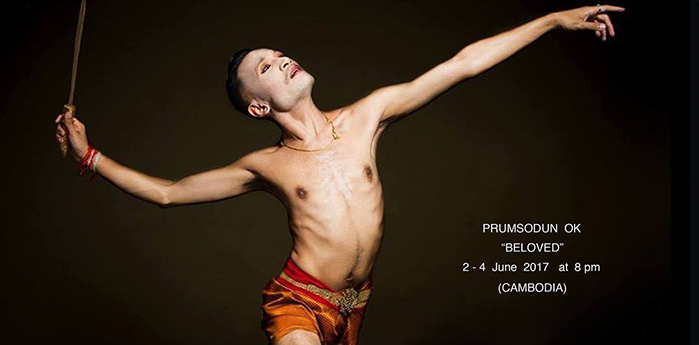 Source : Bangkok Theatre Festival Asia Focus
Photos : Bangkok Theatre Festival Asia Focus
By : Ruta
Layering evocative English and Khmer narration onto a lush soundscape, Beloved casts a history of ritual lovemaking into the dancing bodies of gay men. Inspired by an Angkorian custom recorded in the thirteenth century—in which the Khmer king made nightly sexual unions with a naga to ensure fertility of the land—Beloved situates the love between men in The ritual-poetic space in which Khmer dance is set, mirroring and shaping, stretching and re‑choreographing the image of ultimate social order: heaven.
Performers of Prumsodun Ok and NATYARASA. Photo by Nobuyuki Arai
Prumsodun Ok &NATYARASA is Cambodia's first all‑male, gay‑identified dance company drawing from the ancient art of Khmer classical dance. They restage traditional works of the canon with a vital freshness, and create original, ground‑breaking works that thrive at the intersection of art and human dignity. They committed to elevating the quality of life and expression for LGBTQ people in Cambodia, in a manner that is local in character and global in significance.
Since founding in June 2015, they have performed at the Department of Performing Arts (Phnom Penh), Humble Projects (Bangkok), and at the US Embassy in Phnom Penh among others. Additionally, they have conducted workshops at Suphanburi College of Dramatic Arts and Rajabhat University in Thailand. In April 2017, They are performing at the TED Conference in Vancouver as part of artistic director Prumsodun Ok's TED Talk.
Book your spot now @ www.bangkoktheatrefestival.org or www.facebook.com/BTFAsiaFocus