Kiss scene in Ghost in the Shell trailer. Where'd it go?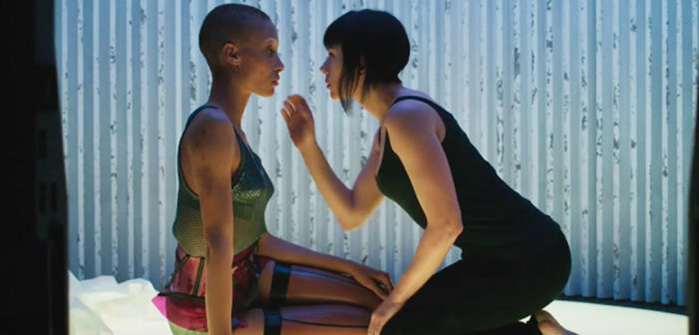 By : Ruta
When fans first learned that Scarlett Johansson would play the role of Japanese anti-terrorism investigator Major Motoko Kusanagi in the live-action film version of
Ghost in the Shell
,
many objected to the "whitewashing"
of an Asian story. In this case, the originally Japanese character was played by a white, American-born actress.
There's a scene in
Ghost In The Shell
-
Scarlett Johansson
's latest action jaunt, where she plays a killer robot with a human brain - when Major (Scarlett) seeks out human contact. She finds it with a prostitute, played by
model
Adwoa Aboah, clad in the universal uniform of futuristic escorts (iridescent silver latex). As Adwoa disrobes, Major caresses her face, touching her lips.
This is important because the original anime film had almost no sexual content in it apart from a few occasional scenes of the Major's naked robotic body. At one point in the TV series, the Major wakes up in bed next to two women and at another point she seduces a teenage boy and talks about "the first boy she ever loved." But apart from that, the animated series and film focus more on the Major's investigations and larger themes of consciousness and identity rather than romantic or sexual entanglements.
People has pointed out that the film's original trailer
included a lesbian kiss that never appeared in the film
. Was
Ghost in the Shell
"straightwashed," too?
soon