Dr Ann Louise Gillian - wife of - Dr Katherine Zappone : Ireland Minister - has passed away.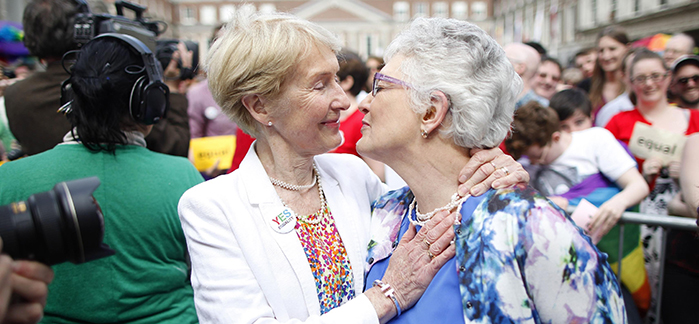 Photos : yahoo.com
By : Ruta
Dr Ann Louise Gillian & Dr Katherine Zappone has been dating since 1981, in which both are the masthead of the PRIDE movement in Ireland, and just when they had their chance at becoming part of politic, and becoming a minister, she tragically passed away.
Zappone described her late wife as her "love and life-partner" as well as an "educator extraordinaire". The couple got married in Canada in 2003 before equal marriage was legalised in their home country of Ireland. However, the pair were heaving involved in pushing the 2015 marriage referendum through in Ireland. The two also became engaged again on live television after Ireland voted to legalise equal marriage and they re-wed last yar.
Zappone added about her wife: "As a champion of equality, fairness and justice Ann Louise was fearless. "Her courage inspired us to make the ultimate commitment with our marriage in British Columbia in 2003." Leo Varadkar, the first openly gay Taoiseach who was just elected in Ireland said that he was "very saddened to learn of the death of Dr Ann Louise Gilligan. "Dr Gilligan was deeply committed to education and equality and made a lasting contribution to Irish society, in particular as co-founder and director of An Cosan and through her work in campaigning for marriage equality," he said.
Due to the unidentified illness, the PRIDE community, and her wifef is sadden by her passing