What makes Mr. Gay World Thailand 2018 so alluring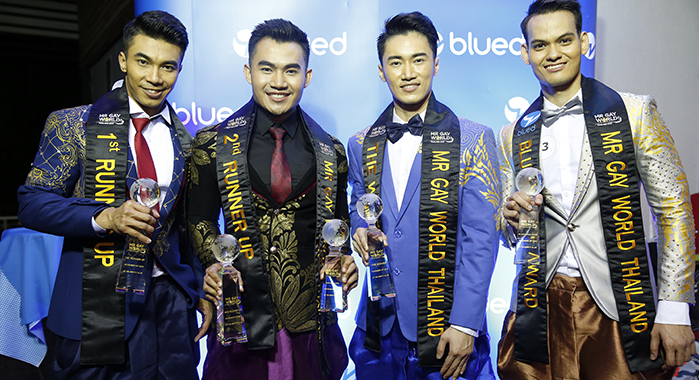 Photos : Blued
By : Ruta
The Mr. Gay World Thailand 2018 has officially open for registration for men between 18-40 years old to be our country representative for the World Stage of Mr.Gay World 2018 @ New Zealand, but the question that many may have is - How is this occasion different from those before it? And what so alluring about this year contest?
1. This is the only stage of the gay contest.
In the age when we saw the stage of young men pretty much every month months. Mr. Gay World Thailand is the only stage that clearly states that. This is a searchable gay forum. Wrong with other stage using the word Man or Men, but there are gay people to the contest.
2 This is a stage that does not look at the face as important.
Because Mr. Gay World Thailand will have to represent the contest in the world stage. The rules of Mr. Gay World do not judge the appearance. But the brain in answering the question. Presents a project for LGBT and personality as a whole, so it's not a hollow beauty.
3 This is a stage of diversity.
With the intention of having the widest variety. Last year, we saw a lot of contestants. From appearance It is thin, slender puppets, puppets or work career is open. Albeit finally The winner of Mr. Gay World Thailand will be "doctor" on the dash.
4 Mr. Gay World Thailand accepts Queer!
Because gay Thai girls are often labeled "poor", but for the stage Mr. Gay World Thailand is not a problem. And the girls will not be cut off on the stage. Mr. Gay World is said that. Contestants more than half from many countries around the world, it's "girls" as well.
5 Mr. Gay World Thailand will have to work for the society.
Not just saying goodbye. But Mr. Gay World Thailand participant will be trained to know about LGBT rights. The problems that LGBT faces with HIV / AIDS and the love for LGBT society. Intent to create this forum.
Sign up online here @
www.mrgaythai.com