MARIE HØEG and BOLETTE BERG secret photoset and their role on gender in 1900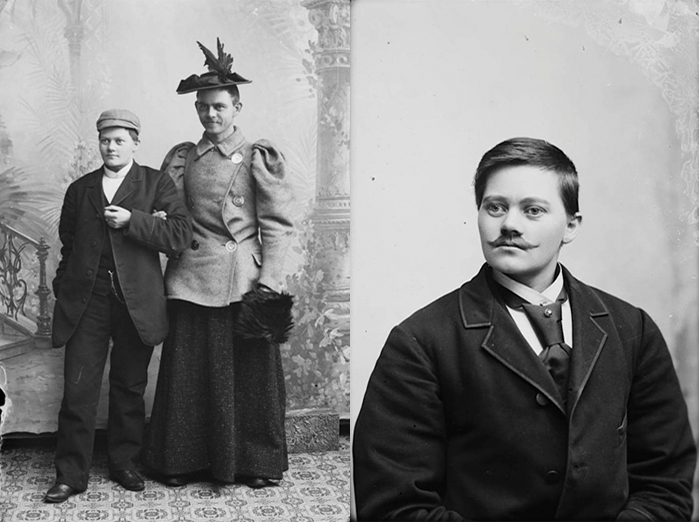 By : มานี
MARIE HØEG (15 April 2409 - 22 February 1949) was a norwagian photographer, a very influential figure of women right movement back in the day. She is also a founder of national woman league for voting. Her and Bolette Berg - her lover - has opened a photography studio together, but not only for photographing, but also a gathering place for assiociates of woman league.
Among these glass plates was a box marked "Private." Inside this box was a set of images featuring Høeg and Berg playing around with traditional gender roles. Høeg dressed as a man with a waxed mustaches, or as a boy with white shirt, cap and cigarette, or in fur pretending to be an Arctic explorer like Roald Amundsen, who led the first expedition to traverse the Northwest Passage in 1903–06. Berg & Høeg posed with their women friends indulging in some of the worst kind of vices usually attributed to men—smoking, drinking and playing cards. Høeg also posed as husband to an unknown male friend as wife and in a rowing boat as a bowler-hat-wearing suitor to Berg's elegant object of desire.
The finished photographs would have been shared among their small coterie of friends in Horten. Their friends no doubt laughed at these daring, subversive images which cocked a snook at the strict conventions surrounding sexuality, gender and identity at a time when women were called the "weaker sex," and forbidden the vote.