#blowsyourbrainout with the 'Twelveth Night or What you will' Stage play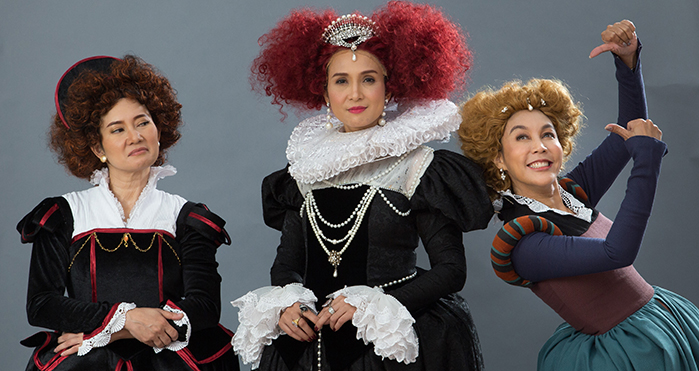 Photos : ดรีมบอกซ์
By : Ruta
Latest stageplay debut from the Dream box, adapted from the work of William Shakesphere - the '
Twelfth Night or What you Will',
the curious case of The curious case of
Man on Boy > Boy on Man > Mon on Girl > Girl on Boy > and when the Boy IS Girl. #blowsyourbrainout.
Directed by
Suwanadee Jakraworawuth,
Music by
Kaiwal Kulwatnotai, and a large cast of colorful people, laughter guaranteed.
Viola is shipwrecked on the coast of Illyria and she comes ashore with the help of a captain. She lost contact with her twin brother, Sebastian, whom she believed to be drowned. Disguising herself as a young man under the name Cesario, she enters the service of Duke Orsino through the help of the sea captain who rescues her. Duke Orsino has convinced himself that he is in love with Olivia, whose father and brother have recently died, and who refuses to see charming things, be in the company of men, and entertain love or marriage proposals from anyone, the Duke included, until seven years have passed. Duke Orsino then uses 'Cesario' as an intermediary to profess his passionate love before Olivia. Olivia, however, forgetting about the seven years in his case, falls in love with 'Cesario', as she does not realize the Duke's messenger is a woman in disguise. In the meantime, Viola has fallen in love with the Duke Orsino, creating a love triangle between Duke Orsino, Olivia and Viola: Viola loves Duke Orsino, Duke Orsino loves Olivia, and Olivia loves Viola disguised as Cesario. Well this will be interesting. See it now @ the 9th of March
Debut 9-10 ,16-17 ,23-24 March 2017 - Sat 14.00 น and 19.30 - Sun 14.00 น. @ M Theatre New Petchaburi road. For more infos : www.dreamboxtheatrebkk.com & Facebook: dreamboxtheatrebkk