TOMACTZ AGENDA what to do this week (23 FEB – 2 MAR 2017)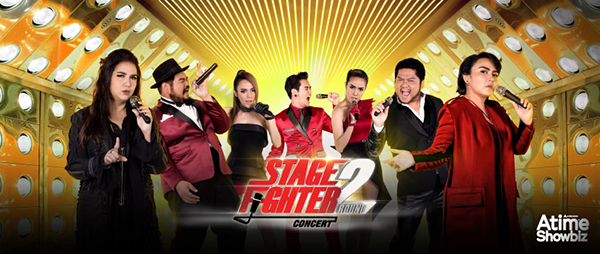 By : Ruta
BOOKING CONCERT
Stage Fighter Round 2
The battle of honour, the union of 7 artists - showdown on the live stage. Featuring Bow - Sunita, Pan - Thanaporn, Ben Chalatit, Pop - Pongkul, New - Napassorn, Jiw - Piyanuch, and Aof - Pongsak. on the 'STAGE FIGHTER ROUND 2 CONCERT' The event is unmissable, get the ticket before it runs out, and see you on the
saturday 13th and sunday 14th this June, @ Royal Paragon hall, Siam Paragon. Reserve your ticket today at any Thai Ticket Major. Learn more @ www.atimeshowbiz.com
ART FESTIVAL
Echo & Narcissus
It's the second return of the Low Fat Art Festival. The first stage show of this season is the 'Echo & Nacissus' the joint collaboration of three artists: Jonas Dept, pianist, The animated picture by belgian artist: Eva Dept, choreograpghed by Sun Tawalwongsri. Shown only in three rounds.
From 24-16 February (Fri : 20.00 Sat - Sun : 19.00) @ Thonglor Artspace. For more information: www.facebook.com/lowfatartfest
SHOPPING
TIMEX x RED WING
An epic collaboration between two prominent brand, Timex: the world-class top of the line watch brand with 165 years of history, and Red Wing, the boot manufacturer without rival. The two created a collection called "Timex X Red Wing" by emphasising on each of their key uniqueness in to one of the greatest item of the year. Get this limited collection now, and any Timex Shop.
DINNER
CRAB AND MUSSELS
On every friday, taste a special menu of the "CRAB AND MUSSELS" another level of international A'la Carte. Enjoy the freshness of the Atlantic brown crab boasting its natural flavor and mild sweetness served with a variety of sauces and condiments alongside one full kilo of mussels in either classic French style with rich and flavorful white sauce, aromatic Spanish style with Chorizo, or palatable Thai style brimming with herbs and spices. All told, further enhancing the meal is a selection of Chef's special dipping sauces each complimenting the soft and sweet taste of Atlantic deep-sea gems and smooth texture Australia's world-famous produce.
Reserve now, at Panorama dining room, Crown Plaza hotel, bangkok. Cost starting from 1,499baht++ For more info, contact : 02-632-9000