5 Femme Fetale Spy Films Selection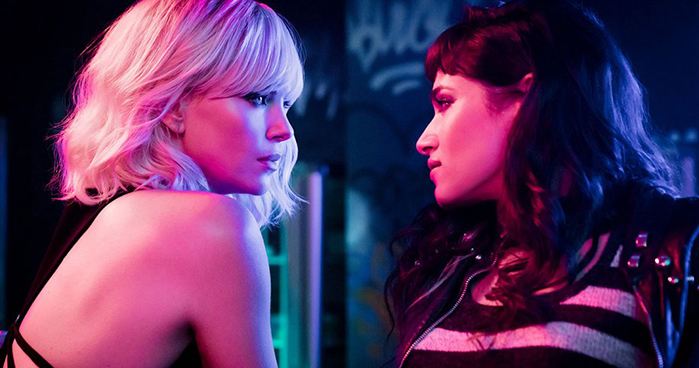 By : Ruta
Independent women (spies) who don't need no man are a staple of spy movie genre for decades, in which the dames are well equipped with cutting-edge fighting skill and unrivaled charisma. Most of which are set in the cold war where reconaissence and assassination were a thing, and seduction is one of their many tools in their arsenal. And this is out 5 selections of Femme Fetale Spy films picked out just for you!
LA FEMME NIKITA (1990)
Directed by :
Luc Besson
Stars:
Anne Parillaud, Marc Duret, Patrick Fontana
Nikita is a young lady who with three Nihilist friends commit robbery and murder while on drugs. After her trial she is not executed or taken to prison, but to a school for special operatives. She is told that Nikita no longer exists and she will be trained to pay back society for what she has done, as a spy/assassin. She is trained for over two years and with no warning is handed a gun in a restaurant and told to kill the man at the next table as her handler leaves. The film was nominated for the Golden Globe Award for Best Foreign Language Film. Parillaud won the César Award for Best Actress and the David di Donatello Award for Best Foreign Actress in 1991.
CHARLIE'S ANGELS (2000)
Directed by :
McG
Stars:
Cameron Diaz, Drew Barrymore, Lucy Liu
Charlie's private investigation company is addressed by programmer Eric Knox, owner of Knox Technologies, whose revolutionary voice-recognition software has been stolen. Charlie's Angels Natalie, Dylan and Alex are sent to place a bug in the system of bitter rival Roger Corwin, who is under strong suspicion. But after the deed is done, the Angels and their boss Bosley face the fact of a destroyed home base as well as Charlie's life in immediate danger. But how do you protect someone you never met? Charlie's Angels grossed $125.3 million domestically and $148.8 million in other territories, for a worldwide gross of $264.1 million, becoming the 12th highest-grossing of 2000. Against a budget of $93 million, the film was a box office success.
SALT (2010)
Directed by :
Phillip Noyce
Stars:
Angelina Jolie, Liev Schreiber
Evelyn Salt is a CIA agent and highly respected by all, including her boss, Ted Winter. Out of the blue, a Russian spy walks into their offices and offers a vital piece of information: the President of Russia will be assassinated during his forthcoming visit to New York City to attend the funeral of the recently deceased U.S. Vice President. The name of the assassin: Evelyn Salt. Concerned about the safety of her husband, who she cannot contact, she goes on the run. Winter refuses to accept that she is a mole or a double agent but her actions begin to raise doubts. Just who is Evelyn Salt and what is she planning? Salt received one Academy Award nomination, for Best Sound Mixing, and won Best Action/Adventure Film at the Saturn Awards, with Angelina Jolie being nominated for Best Actress, and the Deluxe Unrated Edition being nominated for Best DVD Special Edition
SPY (2015)
Directed by
: Paul Feig
Stars:
Melissa McCarthy, Rose Byrne, Jude Law
Susan Cooper is an unassuming, deskbound CIA analyst, and the unsung hero behind the Agency's most dangerous missions. But when her partner falls off the grid and another top agent is compromised, she volunteers to go deep undercover to infiltrate the world of a deadly arms dealer, and prevent a global crisis. Star Melissa McCarthy has said that the film is the most physically taxing she has ever done. McCarthy has said of the mis-haps and accidents that befell her during the making of the movie: "Running, jumping, falling. I've cracked my head, I have cuts and bruises. At the end of the day I look like I fell down an elevator shaft. But I wear those wounds and thrown discs with a bit of pride". Stunt Co-ordinator J.J. Perry has also said: "We have a great stunt double (Luci Romberg) for Melissa, but once we saw how good Melissa was we were able to ask even more of her." Perry has also praised McCarthy's s impressive ability to learn and retain choreography, saying, "She was in there with some heavy-hitting action stars, which can be intimidating, but she more than held her own. Her work ethic is outstanding".
ATOMIC BLOND (2017)
Directed by
: David Leitch
Stars
: Charlize Theron, James McAvoy, Sofia Boutella, John Goodman
The crown jewel of Her Majesty's Secret Intelligence Service, Agent Lorraine Broughton (Theron) is equal parts spycraft, sensuality and savagery, willing to deploy any of her skills to stay alive on her impossible mission. Sent alone into Berlin to deliver a priceless dossier out of the destabilized city, she partners with embedded station chief David Percival (James McAvoy) to navigate her way through the deadliest game of spies. Atomic Blonde had its world premiere at South by Southwest on March 12, 2017, and was theatrically released in the United States on July 28, 2017, by Focus Features. It has grossed $73 million worldwide, and received generally positive reviews from critics, who praised its action sequences, Theron's performance, McAvoy's performance, and the soundtrack, although some criticized the writing and pacing; many have compared the film to John Wick.