I Am Atomic , a charity project for LGBT youth.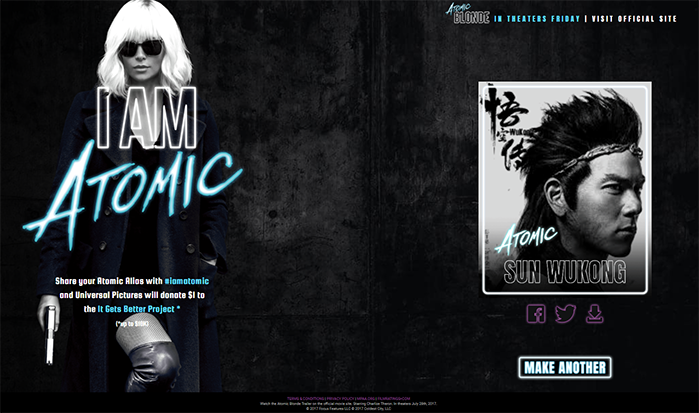 Photos : ยูนิเวอร์แซล พิคเจอร์ส
By : Ruta
Universal Pictures, the big distributer of the european continent has came up with a campaign to promote their latest soon-to-be-hit film : Atomic Blonde, in the name 'I Am Atomic'. A little clever campaign that will change your ordinary profile picture into a monotone shaded portrait with blinking neon gimmick, which can be immedietly shared via social media of your choice, in bot .GIF and .PNG format. >>http://www.iamatomic.com/
Growing up isn't easy. Many young people face daily tormenting and bullying, leading them to feel like they have nowhere to turn. This is especially true for LGBT kids and teens, who often hide their sexuality for fear of bullying. Without other openly gay adults and mentors in their lives, they can't imagine what their future may hold. In many instances, gay and lesbian adolescents are taunted — even tortured — simply for being themselves. While many of these teens couldn't see a positive future for themselves, we can. The It Gets Better Project was created to show young LGBT people the levels of happiness, potential, and positivity their lives will reach – if they can just get through their teen years. The It Gets Better Project wants to remind teenagers in the LGBT community that they are not alone — and it WILL get better.
You probably have watched the deliciously violent trailers of Atomic Blonde, if not, you're wasting your life, darling.