The Face Thailand and Tom de Lez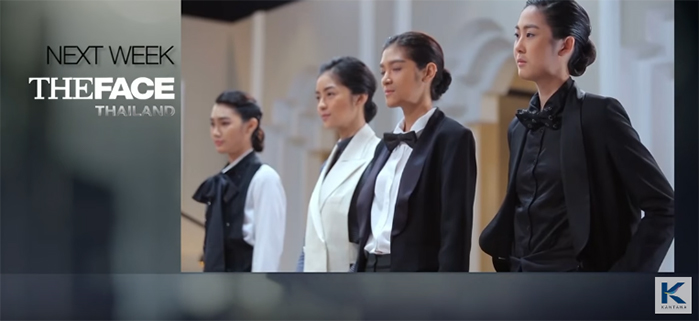 Source : The Face Thailand Season 2
By : Ruta
Amidst the controversy of The Face Thailand Season 3, and the allowance of trans woman that caused the flame wars across the social medias. In the recruitment of supermodels that left Thailand entertainment industry in shamble (or was it? *crowd goes oooh*) under the concept of equality and the homophobian conflicts that occurs on air. In addition, there's also a Tom De Lez scene in the first episode too.
After the first episode came to pass, Kanta Kaljareuk - the show runner - appeared in the show to answer some questions in which Metinee Kingpayom asked whether the trans contestant would have the same chance as other contestants. He answered yes with an absolute certainty (though in the real case, we have to keep an eyes on them whether the two transexual contestant will be treated fairly). Followed by a scene that a young 16 years old contestant stated that she was afraid of the 'Kratoey' which is interpretated by many as a discriminatng edits and lines butchering, in which the conclusion hasn't been made.
Now, in to the topic of Tom De Lez. In Ep1 there's a small scene that a contestant 'OOM' stated that she just returned from london, after getting married and lived there, don quite a bit of modeling works, till her boyfriend get her into the show. followed by a raw make-up less face talking.
แล้วก็มาถึงตอนที่มีการซักถามถึงการแต่งงาน แล้วอุ้มก็พูดว่า "ค่ะ แต่งงานกับแฟนที่เป็นผู้หญิงค่ะ ตอนนี้ก็ยังคบกันอยู่ค่ะ แฟนเพิ่งบินมาถึงเมื่อสองวันที่แล้ว" พี่ลูกเกดถามต่อว่า "เค้าไม่หึงเหรอคะ" อุ้มยิ้มเขิน" ไม่หึงเลยค่ะ" พี่ลูกเกดได้ทียิงมุกกลับ "เหรอ แต่บินมาแล้ว" น่าเสียดายที่แม้จะผ่านเข้ารอบนี้ไปได้ แต่สุดท้ายอุ้มก็อยู่ต่อไปไม่ถึง EP2 มิเช่นนั้น เราอาจจะได้เห็นนางแบบเลสฯ เข้ารอบลึกๆ เหมือนปีที่แล้วก็เป็นได้
Keep your eyes on the second episode, in which they will have to dress as a men. How exciting!