Charus Fuengarom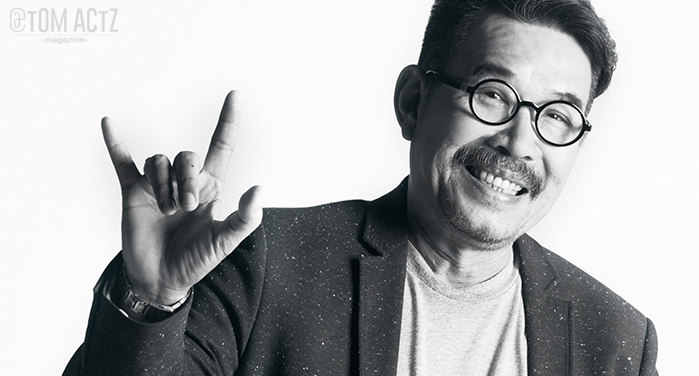 "Therefore I have pride in my glory. I do not care what other would say. Because who could be more empathic to us, than ourselves."

Flash us back 30 years, before the existence of social networks, before the day of Youtube to distribute your work for the world to see freely. How was the music industry in the day before? Artist, singers, in the era of vinyl record, and cassette tape that require side flipping half way in. Or to have to tune in the radio frequency for the right song and the right signal quality. How difficult and fun it was. But we believe that the old timer of that age until now, no one could forget the song 'Pror cha nunt' of Artam - Charas Fuengarom. Today we're going to talk about his childhood story, the music industry back in the day, and his latest work with his close friend, AThun - Phonthep Suvarnaboon and Apun - Paibulkiat Keawgaew in a collaboration in the name of Stone Age Boy Band, and to clear it all up with the question of: Is Atham gay????

Molded by music, Since childhood.
In the rural areas there's musical folk drama, outdoor theatre, country concert. When there's ceremonies, marriage, they'll play music that can be heard all the way along the river, up to three days straight. So I absorbs all the artistry from this environment…

Music Industry back in the day
In that era that is still in the middle in the subject of artist, which is still in the form of unstable profession. Because it's now more suitable for an income...

Music Industry in the present, and becoming a Boy Band
'I was confused with the media today, puzzled by the different to what we created 30 years ago. So it got me thinking: what would we create then?. Coincidentally three of us; Tun, Tam, Pun are close friends. Tun is a producer, composer, Tam is a singer, composer, and Pun is a quality singer. To compare us to the flame, we're basically 5 candle lights strong each....
Charus and LGBT friends
In the past, Being a transvestite and tom is an entirely another society. A darker part of society that get weirdly looked at by everyone else. The tom would express themselves by drinking and smoking, and ladyboys basically wears women clothes and acting like one. And their number is very scarce. Because there's pressure upon them.
Are you Gay?
"To be or not to be, I am 60 year old now It's clear to me that I am…
After reading the full in depth interview accompanied with fashion set of this Impressive column, Atham in sharp bold look, and a heart of lion of this experienced artist. What impressed us is that his warm smile and words, good life lesson that we wouldn't want you to miss. See you in june in @tom actz Magazine!